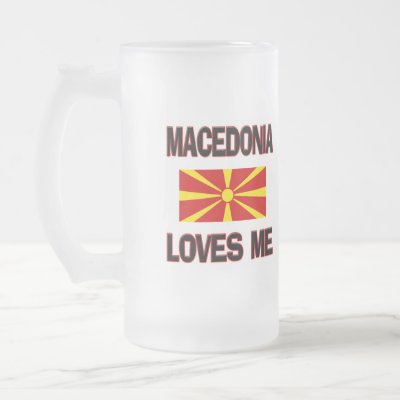 This was a bad sporting weekend for me. In any match that was important to me, the wrong teams won. So I am focussing on this past week's lone positive development: Canada booking a friendly with Macedonia.
So along the way this morning, we'll be learning a little bit about this landlocked country, home to Alexander the Great.
Let's begin with the name: the country is Macedonia, but in this internet age of acronyms, many prefer FYROM.
F is for friendly
It is a habit, one that is hard to break, for Canadians to rag on the CSA at every opportunity. That is why it is so important to point out when they get something right.
And booking a November friendly, even when Canada has no important matches on the calendar, is the right thing to do.
Pompey Canuck
will argue otherwise, but beginning to evaluate the players that will form the core of the Canada squad over the next four years is an important task, and squandering two international dates this month would have been disappointing.
Rumour has it that
Canada had been negotiating with the Czechs
, which shows a level of ambition from the Association that we're not accustomed to. Even though that match seems not to have panned out, Macedonia is a good get, and should make for a fairly competitive match.
I expect to see a Euro-based squad, though I would not be disappointed to see a few out of season North American based players like
Julian de Guzman
or
Nana Attakora
included. Particularly interesting will be whether players like
David Hoilett
or
Jacob Lensky
would answer a call.
The fixture goes November 14th in the capital, Skopje. In the only previous head-to-head match between the countries,
a friendly in Toronto
, Canada came out victorious on a goal from the prolific
Niall Thompson
.
Y is for Your two favourite Canadian pro teams
This was the source of much of my weekend's disappointment. I was hopeful, maybe even cautiously optimistic, that Vancouver would pull off the upset in the return leg of the USL-1 final. I was also hopeful that the officiating would be better than we saw from a lady-ref Ms. Chenard at Swangard. On both counts, my hopes were dashed.
I
aborted my live blog in frustration
after the Montreal penalty goal. On my grainy stream it looked like a bad call, but upon further investigation, it was probably the right one. The sending off of
Shaun Pejic
however, a player finally starting to show why he spent his career in the English Conference, did get my hackles up as I had never before seen a straight red for dissent like that. The sending off ruined any chance of what had been an entertaining start turning into a terrific match.
Now that I have the emotional stuff out of the way, allow me to congratulate the Impact and coach
Marc dos Santos
. The man turned around a team that was falling apart at the seams after collapsing at Santos, Nutrilite embarassment, Sandro Grande drama, and a disappointing first half of the USL season. The veteran squad responded late to MDS, but the Impact won all 6 playoff matches and are deserving champions.
An RDS article explains how
Montreal overcame adversity
in '09, while a
french CP hit runs down the match itself
.
The Whitecaps also deserve to be congratulated. After winning the title last year, they blew up the veteran core of their squad and began a youth movement with a bevy of under 23 talent featuring at various points of the season. USL-1 rookie of the year
Marcus Haber
was the most impressive but
Ethan Gage
,
Wes Knight
,
Luca Bellisomo
,
Randy Edwini-Bonsu
,
Mason Trafford
and others all made important contributions at various points in the season.
They also should be congratulated for finishing on top of this year's
Canadian content standings
. Despite a final that featured minimal Canadian content on both sides, the Whitecaps top this year's list, barring a long Toronto FC playoff run that is very Canadian-heavy.
(Parenthetically, here are the final 2009 Canadian content numbers for both teams. I'll run the numbers with sort-of-Canadian
Eddy Sebrango
excluded after TFC wraps their season --
O'Brian White
will receive the same treatment
VANCOUVER WHITECAPS

Competition
CDN
Total
Percent
USL Regular Season
13034
29695
43.9%
Voyageurs Cup
1595
3960
40.3%
USL Playoffs
1990
5840
34.08%
Totals
16619
39495
42.08%
MONTREAL IMPACT
Competition
CDN
Total
Percent
CONCACAF Champions League
762
1980
38.5%
USL Regular Season
11643
28637
40.7%
Voyageurs Cup
1780
3941
45.2%
USL Playoffs
1686
5940
28.38%
Totals
15871
40498
39.2%
Ending parenthetical.)
On the 'Caps press side, a CP article explains that I wasn't the only one
upset about the red card
shown to the otherwise abysmal Pejic.
R is for

Rankings, FIFA-style
The newest edition of the
FIFA rankings
are out, and Canada made a nice jump. 13 spots, to be precise, which can be attributed to the uglier results of 2008 (umm, I don't want to talk about it . . .) being devalued as they age.
Canada sits 53rd overall, and more importantly,
5th in CONCACAF
. It is important to maintain a high position in the CONCACAF table, in order to avoid another Group of Death in qualifying for 2014.
Our Thracian friends (I mean Macedonia, see how I dropped some knowledge there) are 66th.
O is for Overseas obsession (the Eredivisie)


In case you've forgotten, the team that I follow most closely is the alphabet-spanning
AZ
. They are a part of the Dutch Big Four, along with
Feyenoord
,
PSV
, and
Ajax
. Perhaps it is time to include
Twente
(they could probably take the Rotterdam side's place) as they have moved into first place after a 3-2 win over my AZ over the weekend.
PSV
and
Ajax
were also winners this weekend by 1-0 and 4-0 scorelines respectively, while
Feyenoord
dropped a derby match against Sparta 2-1.
Data relevant to our Eredivisie pool includes goals from
Luis Suarez
and
Mounir El Hamdouai
.
See for yourselves the
table
and
top scorers
in the most pleasing teletekst format.
M is for Music of Macedonia
Yes, this is 2009, not 1989.
Lots to talk about today, but running out of space and time. Here are some quick hitters.