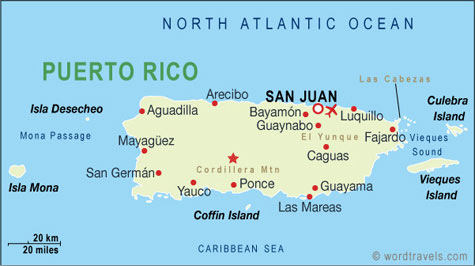 PUERTO RICO
National team nickname: "The Blue Hurricane"
Best ever FIFA ranking: 97th (March 1994)
National team coach: Colin Clarke is currently national team coach. However, during Sunday's Montreal Impact broadcast it was mentioned that we would not be coaching the team during World Cup qualifying. Take that for what it's worth.
HOW THEY GOT HERE:
Puerto Rico were among the top 24 sides in CONCACAF as of the March 2011 rankings, so they did not have to compete in a Round 1 two-legged playoff. They last played a competitive match on 26 October 2010, a 1-0 loss to fellow Group D members, St Kitts and Nevis.
Colours:
In spite of the stars and stripes font, a pretty ballin' jersey, if I do say so myself
.
# of players on team that I've heard of: 0. If I had paid closer attention to the Impact-Islanders game on TV last Sunday, I would have recognized a bunch. We all know about Marco Velez, who is listed as national team captain
Best players, judging by professional pedigree
: According to wikipedia, the
last edition of the national team
features 5 members of the NASL's Puerto Rico Islanders. The rest is a smattering of NASL, college, other domestic players and lower division American leagues, plus two players in Europe on teams I've never heard of. Nobody stands out.
Canada's history against Puerto Rico: Canada has never played against Puerto Rico.
PREDICTION: Although rankings may suggest otherwise, my own feeling is that Puerto Rico is Canada's most dangerous opponent in the group. If they bring a strong contingent of Islanders players, they may be a more cohesive bunch that can set out to stall the Canadian attack. Therefore, my expectations are more in the neighbourhood of 2-0 or 3-1 victories, rather than the heavier blowouts I'm hoping for against the other teams.
6 September 2011: Puerto Rico vs Canada
11 October 2011: Canada vs Puerto Rico (BMO Field, Toronto, ON)