This was the week shit got real.
MONTREAL 4:2 EDMONTON (5:4 on aggregate)
I was sneaking glances at Habs-Bruins, but last night were the largest doses I've seen of both the Impact and the Eddies this year. The result came down to some late-match officiating insanity, but the rest of the match largely confirmed what we thought we already knew.
MLS teams are better than NASL teams. Edmonton and Montreal are among the worst teams in their respective leagues, and the gulf in talent was apparent as the Impact went ahead 3-0 with Justin Mapp bossing the game. Enough said.
The Impact are a mental case. There was clearly an on-off switch, and Montreal switched off hard at about 60 minutes. No interest, heads not at all in the game.
Hanson Boakai is great, not good, and Frank Jonke is a fucking tank.
Canadian officials are mostly not good. You will not see a worse handball call ever, while Edmonton's penalty was at best a 60-40 shout, and Montreal may have had an earlier penalty denied.
Joey Saputo is insane. I love this photo.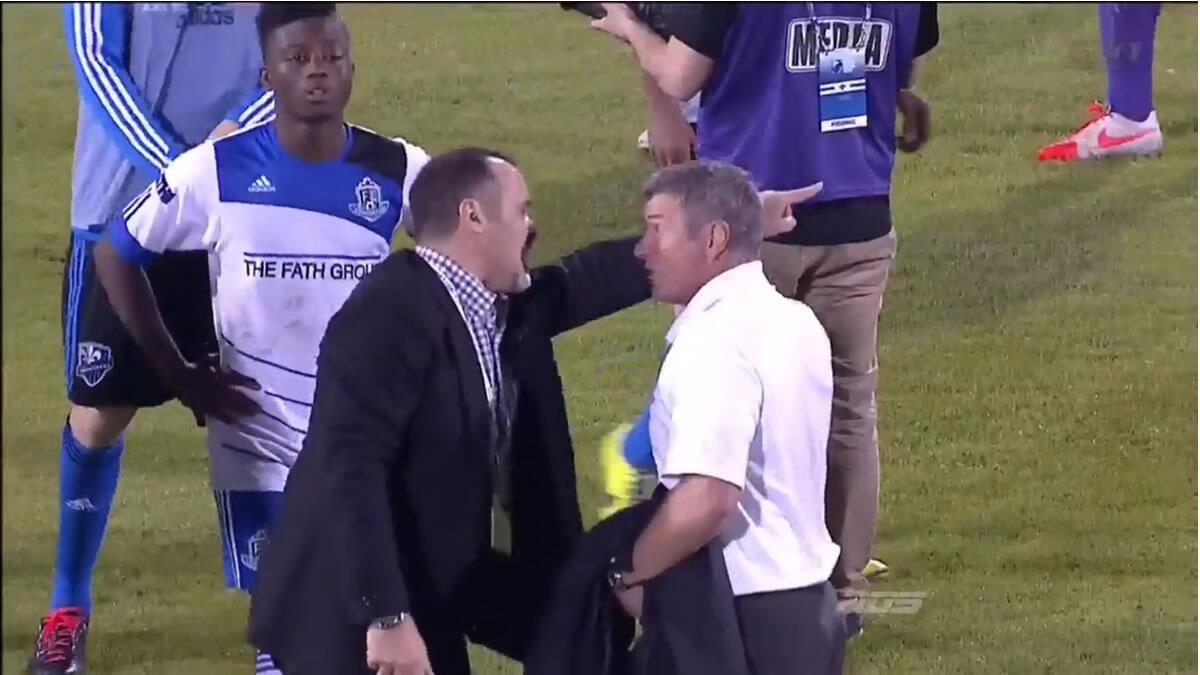 VANCOUVER 2:1 TORONTO (3:3 on aggregate, TFC advance 5-3 on penalties)
I should have gone to bed instead of having to endure a classic match being decided by penalties.
Toronto scored a goal that shouldn't have counted (Hagglund foul, goal scorer
Doneil Henry
offside), then sat back and largely absorbed pressure, despite an
Eric Hurtado
goal on a sublime lob from
Pedro Morales
. Then another penalty decision, but this time a stone cold PK awarded against Henry on a reckless challenge, and
Pedro Morales
ties it.
The game was one-way traffic, perhaps not to be unexpected given the early Toronto goal and a stronger Vancouver lineup. Still, some surprises:
Michael Bradley did not give a shit. He wants to make it healthy to the World Cup. Can't blame him. An extremely generous analysis might suggest the Toronto midfield of Bradley, Jonathan Osorio and Kyle Bekker were nearly the equal of the imperious Russell Teibert, along with PDL loanee Bryce Alderson and Morales. Once Bekker was subbed out and Mattias Laba came on for Alderson, Vancouver worked Toronto like a speed bag.
Kekuta Manneh had an awful game. Squandered two golden chances with a heavy touch, allowing Joe Bendik to make relatively routine saves, and then a terrible penalty attempt in the shootout. He is also super young.
Marco Carducci. Shot stopper, yes. Goalkeeper, not yet.
It will be interesting to watch a final that clearly neither team particularly will want to win. I will, grudgingly, be rooting for the Impact.
Here are the pool standings.
| | |
| --- | --- |
| Score | Entries |
| 7 | Fussball_eh |
| 8 | Duane Rollins |
| 9 | Brenton, Sam |
| 10 | shermanator, kodiaktfc, Seth Greenan, Duncan Fletcher, coxon, Madmonte, tmcmurph, Matt Pretty |
| 11 | @B_Like_Fonz, Tuscan, Rituro, Dave Hall, fil, N3WT, Rex |
| 12 | YQQ Caps Fan, Striped Sauber, Latetedefred, Pompey Canuck, B-ri, woodbridgefc |
| 13 | Cas87, Ben D.O.W., Pej |
| 14 | Ben Massey, Trillium |
| 15 | Diego R, Cam Millar |
| 16 | RedcoatsForever, Fouge, Roke |
You can view all scores and selections
here
.
Perhaps not surprisingly, nobody predicted a 4-2 Montreal win. Many had Vancouver winning 2-1. All entrants will receive an email in the next day or two asking for your final round picks.
And finally, here's something I like:
MONTREAL IMPACT
Competition
CDN
Total
Percent
MLS Regular Season
976
8823
11.1%
Canadian Championship
455
1980
23.0%
Totals
1431
10803
13.2%
TORONTO FC
Competition
CDN
Total
Percent
MLS Regular Season
1564
6930
22.6%
Canadian Championship
810
2310
35.1%
Totals
2374
9240
25.7%
VANCOUVER WHITECAPS
Competition
CDN
Total
Percent
MLS Regular Season
541
9887
5.5%
Canadian Championship
731
2310
31.6%
Totals
1272
12197
10.4%
FC EDMONTON
Competition
CDN
Total
Percent
MLS Regular Season
1891
4938
38.3%
Canadian Championship
1676
3960
42.3%
Totals
3567
8898
40.09%
OTTAWA FURY
Competition
CDN
Total
Percent
MLS Regular Season
1813
4950
36.6%
Canadian Championship
844
1980
42.6%
Totals
2657
6930
38.3%
Every team has played a more Canadian lineup in the Voyageurs Cup matches than in their regular season fixtures. Despite the fact these are often younger or marginal players, this is still a Very Good Thing.